Account Security
Credit & Loan Phone Scams
Anti-Phishing Tips
Identity Theft Fraud
ATM Safety
MWA Phishing
Mortgage Fraud
Telemarketing Fraud
Credit and Loan Phone Scams
"Credit problems? No Problem!  You have been preapproved for an unlimited line of credit. We don't care about your past. You deserve a loan!"

These are just a few examples of tempting "easy cash" offers that guarantee loans or credit cards, regardless of your credit history. Be cautious when dealing with credit and debt relief offers like these especially when they come by phone from strangers. Knowing the tell-tale signs of credit and loan scams can help protect you, and your money, from being taken. Some signs of a fraudulent credit or loan offer are:
Anti-Phishing Tips
Phishing is the illegal practice of tricking someone on the Web in order to retrieve their sensitive personal information: passwords, banking information, etc. Most often, phishing takes the form of fraudulent emails that ask you to "confirm your password", "verify your account", or "confirm your identity."
Identity Theft Fraud Tips
Identity theft occurs when someone uses your personal identifying information, like your name, Social Security number, or credit card number, without your permission, to commit fraud or other crimes.

The FTC estimates that as many as 9 million Americans have their identities stolen each year. In fact, you or someone you know may have experienced some form of identity theft. The crime takes many forms. Identity thieves may rent an apartment, obtain a credit card, or establish a telephone account in your name. You may not find out about the theft until you review your credit report or a credit card statement and notice charges you didn't make—or until you're contacted by a debt collector. Remember these tips below to safeguard your identity:
To request a free copy of your credit report from any of the three major credit reporting agencies, visit www.annualcreditreport.com.
Securely Manage Your MWA Accounts Online
When visiting our homepage, make sure it says www.mwafcu.org in the address line.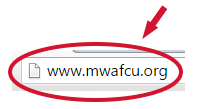 One trick phishers use is called "spoofing". The phisher will set up a website that looks exactly like a legitimate one but has a different address. They then trick us into giving them information like account numbers, passwords, Social Security numbers or logon IDs. Once they have this information, they can go to the real website and use it to steal.

A fraudulent email or link may direct you to a website that looks like ours at first glance, but the address is different. Sometimes the difference is very subtle and hard to catch like http://www.mwafcu.com or http://www.mwfcu.org/ which are only slightly different, but take you to the wrong site.

When visiting Online Banking, make sure the address line starts with https://banking.mwafcu.org/



There will be more following this in the address line, but this is the most important part and the easiest to look for. If the address does not start with this, you may be at a spoofed site. Notice that the first part of the address "https" is different from the start of the regular website address, "http". The extra "s" stands for "secure" and means that the information is sent over a "secure socket layer" connection.

Make sure there is a closed padlock in the frame surrounding the web page. This is also an indicator that the information is being transmitted with a "secure socket layer" connection. Sometimes phishers will put a picture of a closed padlock in the web page to trick you into thinking it is secure. Remember that it must be in the frame around the web page to mean, "secure socket layer".

You can check the digital certificate. A digital certificate is issued by a Certificate Authority that certifies that a business and a particular website are connected, just like a photo on your driver's license connects your identity with your personal details. To view the digital certificate, click on the closed padlock on the website frame.

When logging in to home banking, make sure the picture and phrase you selected during set up are correct. If they are not correct, you may be at a spoofed site because phishers do not know what you chose.
Telemarketing Fraud
Some criminals lie on the telephone to get your personal information. They may lie about who they are, claiming that they're from a legitimate company and that you have a problem with your account. Or they may pose as representatives of a bank or government agency and ask you to confirm your billing information. Once they have your personal information, they can use it to commit identity theft charging your existing credit cards, opening new credit card, checking, or savings accounts, writing fraudulent checks, or taking out loans in your name.

Many people learn that their identity has been stolen only after the damage has been done. The Federal Trade Commission (FTC) wants you to know that you can minimize your risk of identity theft. If you think you're a victim of identity theft, take these steps immediately:






Related Links
Go Green

Save time, money, fuel, and the environment by using online services.

Reduce Debt

Bring your debt into focus with a free analysis and suggestions.

Account Security

Protect yourself from fraud.